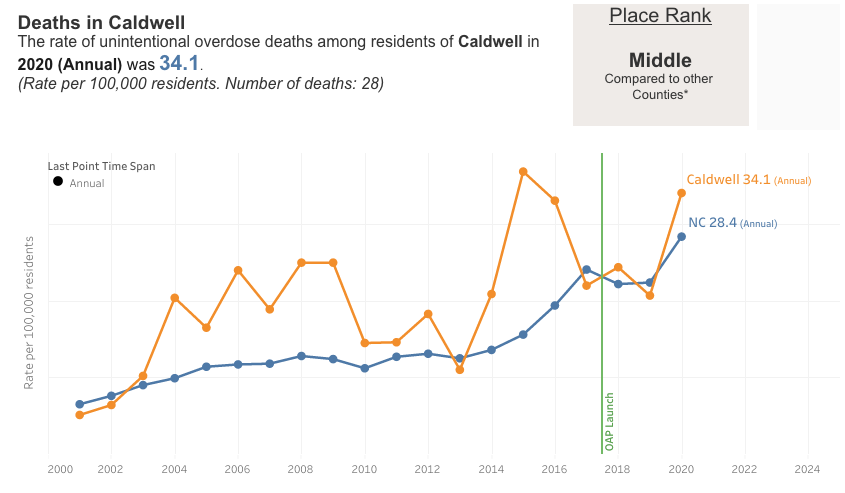 LENOIR — The opioid epidemic in Caldwell County continues to wreak havoc on individuals, families, and communities. Twenty-eight Caldwell County residents died of unintentional overdose in 2020, a rate of 34.1 out of 100,000 residents.
Overdose deaths among North Carolina residents have also been on the rise, with 2,975 people dying from an unintentional overdose in 2020, a rate of 28.4, based on findings by the N.C. Department of Health and Human Services (NCDHHS). From 2000 to 2020, more than 28,000 North Carolinians perished to drug overdose. While final 2020 data is delayed due to COVID-19, provisional data shows that fatal and non-fatal overdoses increased last year.
While Caldwell's rate of overdoses is higher than the state average, per capita, it falls roughly in the middle among the state's 100 counties. Overdoses and drug abuse has been problematic in Caldwell, but worse in other counties, data suggest.
Previously, commonly prescribed pain medications such as oxycodone, hydrocodone, and codeine were the leading source of opioid-involved overdose, based on evidence from the NCDHHS. However, heroin, fentanyl, and fentanyl analogs currently contribute to the majority of opioid-involved overdoses. Opioid-involved overdoses are prevalent in both urban and rural areas, and influence a wide range of demographics. Most commonly affected people tend to be White or American Indian, male, and ages 25 to 54 years old.
Numerous organizations have worked to provide prevention, treatment, and relief to individuals who suffer from addiction and/or overdoses.
The More Powerful campaign, led by N.C. Attorney General Josh Stein and NCDHHS Secretary Mandy Cohen, seeks to "raise awareness around the devastating impact of the opioid crisis in North Carolina," according to their website, www.morepowerfulnc.org. The campaign is funded by the NC Department of Justice, the NCDHHS, their partners, and other donors.
More Powerful has launched several programs to help community members who are addicted to opioids. For instance, law enforcement programs, otherwise known as "angel programs," allow individuals who suffer from addiction to take the initiative in seeking help from law enforcement. Other programs give law enforcement officers a more active role, encouraging police to direct at-risk individuals into treatment rather than arrest or prosecute them.
In North Carolina, pre-arrest diversion programs have been established, or will soon be launched, in Brunswick County, Orange County, Fayetteville, Hickory, Jacksonville, Nashville, Norwood, Oakboro, Roxboro, Statesville, Waynesville, and Wilmington.
Local organizations, including but not limited to Drug-Free Caldwell, Bethel Colony of Mercy, Narcotics Anonymous, Celebrate Recovery, and the RESTART program, which is funded by the NCDHHS, as well as many churches, such as Living Hope Church in Lenoir and Day 3 Church in Granite Falls, strive to provide treatment and quality care to individuals suffering from any kind of addiction.
"The ability to deploy resources through emergency services has been realized through recent grant funds and other monies eligible for those uses," said Chief of Department and Emergency Services Director, Dino DiBernardi. "The benefits are being realized immediately, as emergency services is on the front line of the epidemic, and our ability to reach those with substance use disorders — and their family's — immediately, especially during crises, greatly increases the effectiveness to get them the help and treatment they need."
"We are actively engaged with many county and municipal departments to field additional programs to reduce abuse and reduce the potential for other disease processes and injuries/deaths related to same," he added.
Moreover, the NCDHHS and several community partners have worked together to create North Carolina's Opioid Substance Use Action Plan (NC OSUAP), which was previously called the Opioid Action Plan.
The Opioid Action Plan employs several strategies to address the opioid crisis. The main categories of focus are to center equity and lived experiences; to prevent future addiction and address trauma by supporting children and families; to reduce harm; and to "connect to care" by increasing treatment access and expanding access to housing and employment opportunities.
The data on Caldwell County's implementation of these particular NCDHHS strategies is currently unknown.
Susan Wilson, program coordinator for Caldwell County's RESTART program, said that one reason for this is possibly because of the new way that EMS and paramedics report the administration of Narcan to an individual who is experiencing an overdose.
"We've worked with crews on reporting Narcan administration," she said. "We would put it in the narrative [report], but they use hard data. I know with my program, I have to report every month, but didn't always do that. Part of our grant, the Substance Use Disorder Grant, we're supposed to go into jails, meet with addicts and drug offenders, but we couldn't because of COVID-19."
Another possible reason cited for this lack, or rather, delay, of information is the controversial lawsuit recently filed against the Sackler family, the owners of Purdue Pharma, the company that manufactures and distributes OxyContin. Purdue is accused of contributing to the growing opioid crisis since the 1990s while profiting from the excessive distribution of opioids.
About 614,000 claims were filed by individuals, municipalities, hospitals, and states, according to the New York Times. Roughly 130,000 people who could prove they were harmed by OxyContin were expected to each get between $3,500 and $48,000, and guardians of over 6,000 children born with symptoms of opioid withdrawal would receive about $7,000.
Earlier this year, the Sacklers agreed to pay a settlement of $4.5 billion to about 25 different states, on the condition that they be fully absolved of their crimes and freed from any future litigations. However, eight states and one office in the U.S. Department of Justice objected, saying "it was improper for them to be forced to give up their right to sue members of the Sackler family," and "that the $4.5 billion does not properly hold the family members accountable," an article from ABC News stated. U.S. Judge Colleen McMahon, of the Southern District of New York, agreed with this argument and overturned the ruling, citing that the previous judge "had no authority" to absolve the Sacklers of all litigations.
Now, without the expected funds to implement new strategies to address the opioid crisis, North Carolina, as well as other states, surely, have had to put many of their plans temporarily on hold.
Donald Duncan, Caldwell County manager, said that North Carolina was initially expected to receive "a few million bucks over seven years."
"I don't anticipate that to affect any current programs," he said. "My plan would be to put a committee together of interested parties around the county to see how to use this money for the community. I expect the settlement to specify certain things...under the current proposal, it would go to the states and be distributed. We're probably talking six months from now; need money to come in and develop guidelines how we spend and account for the money. Until the judge is satisfied, we don't really know."
Even without the substantial funds from the Sackler family settlement, North Carolina, and Caldwell County, specifically, continue to combat this crisis and assist residents who suffer from addiction.